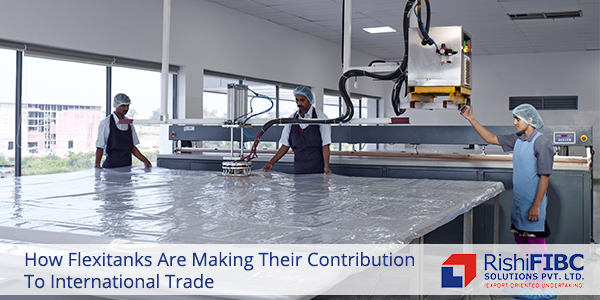 Flexitanks since they have emerged have caused a revolution in the international trade of bulk liquid. These have made transportation of non-hazardous liquid easier, cheaper and also safer thus making it convenient for logistic companies to ship bulk liquid across continents while adhering to ISO regulations.
Flexitanks are large bags or bladders that are used to transport or store non-regulated liquids. These bags are not used independently. In fact, they are installed inside large containers that carry huge quantities of goods and have been approved by the International Standard Organization (ISO). Before 2001, liquid cargoes were stored and shipped in tanks that were neither hygienic nor were they cost-effective. In many cases, they also failed to meet the criteria for International Standardization Organization. These tanks were manufactured from rubber that could be reused.
One of the major drawbacks of these older tanks was the fact that they had to be cleaned and reset between transportation, adding to the maintenance cost. Shippers also ended up losing a lot of time due to these reasons. This fortunately is not the case anymore, flexitanks types that are now manufactured use a linear low density polyethylene while keeping it single layered and recyclable. The new tanks have a number of other advantages.
Here are some of the advantages of flexitanks that make them so popular in the logistics industry:
Hygiene and Safety that matches ISO standards
Flexitanks used by companies today are easy to maintain, hygienic and aid safe transportation of goods from one place to another. Build from virgin polyethylene these flexitanks fulfill the criteria of being kosher and halal. It also complies with the standards and requirements set by the European Union and the US Food and Drug Administration.
One of the biggest advantages of flexitanks is that it completely eradicates the chances of contamination that can be caused due to other products. Since it does not have to be cleaned manually there is no chance of human error or the remains of moisture. Flexitanks are closed containers that are transported from the manufacturer to the distributor until it reaches its final destination. These reasons cause the ISO to reject the rubber containers. In fact, these flexitank types are so accurately designed that they no longer have to be manually rolled or pushed to get the product out. Since it is a single layered tank, goods can be easily unloaded. The translucent material also lets the person in charge keep a check on the condition of the material.
Single-layered flexitanks types are cost-effective
As compared to other transport containers like drums, totes or intermediate bulk containers, the advantages of flexitanks are much higher. Approximately 30 per cent more products can be shipped through one flexitank than through any other containers. Majority of goods stored and transported through these tanks include animal fats and recycled oil. Hazardous materials cannot be poured into flexitanks.
Flexitank manufacturers have the tanks in such a way that you no longer have to climb on the top of the container to open the valve. These valves are now installed at the bottom, making it easy for anyone to pour out the product. The newly developed flexitanks are secure, hygienic, easily pass the ISO criteria and are cost-effective. This has provided credible assistance in expanding the growth of international trade.
If you are looking for flexitanks that conform to international standards, Rishi FIBC Solutions is the best flexitank manufacturer to meet your needs. Get in touch today to find out how your organization can partner with Rishi FIBC to ensure safe, hygienic and cost-effective transportation of goods.